Course details
【2 hour drink will be included! Shicho prefecture internal product course (7 items) 4500 yen】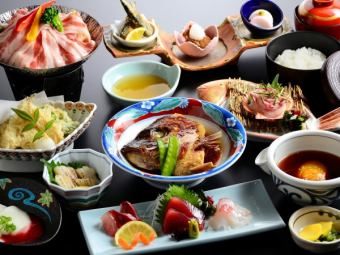 By using a coupon4500 yen
With coupon use above 200 yen OFF above! 120 minutes free drink included LO 100 minutes
All-you-can-drink available

LO 100 minutes
Available days for reservation

Monday - Sunday - Public holidays - Holidays
A course that is perfect for various banquets, family meals, and hospitality from outside the prefecture! Ehime, please enjoy the deliciousness of Shikoku.
Course menu
【Appendix】 Appetizer
【Sashimi】 Three kinds of making
【Fried food】 Fried fish
【Steam】 Potato swine steamed shabu
【Grilled dishes】 Rough cooked with red snapper head
【Rice】 Uwajima Tin Miso OR Satsuma Rice
[Sweet] dessert
※ The food content may change depending on the purchase situation.
All-you-can-drink menu
· ◆ Beer
· Barrel glass / Barrel barrel / Barrel pitcher
· ◆ whiskey
· Jim · beam / highball (rock or soda diving or water splitting or hot water splitting)
· ◆ Shochu
· Potato shochu / wheat shochu (rock or soda diving or sprinkling or oolong)
· ◆ Other
· [Sake] Samurai (cold or 燗) / 【Wine】 Armaden (red or white)
· ◆ Cocktail
· Madam Rosyth / Cassis Orange / Cassis Apple / Cassis Soda / Cassis Oolong / Fazy Niebre / Peach Fizz / Shandigafu etc.
· ◆ sour
· Lemon Sour / Lime Sour / Grapefruit Sour / Orange Sour / Plum Sour / Big Peak Sour / Green Apple Sour / Calpis Sour
· ◆ soft drinks
· Oolong tea / raw tea / orange juice / grapefruit juice / apple juice / mango juice / ginger ale / Calpis water
· ◆ fruit wine
· Plum wine / apricot sake (rock or soda diving or water splitting or hot water splitting)
2018/09/19 update